: I don't know what title i should put.
: I have no idea when was the last time i updated my blog and not even bother to check the date. :)
: sam and nee are surprise to see me updating now. XD
: wanted to blog about SG trip but no time for it. maybe someday when i have the SG mood i will blog, haven't even blog about Shanghai trip. =X i'm lazy.
: previous SG trip was great. I
♥
the people i've met in SG. I
♥
the hostel which we our spent 3 nights there. I
♥
our lecturer who went with us, Mr. Bryan!
:
My friends and I set up a new blog.
Click
to visit. more pieces are coming in!
: This sem is very busy! I hate Physical E!
* Monkey said i'm a typical engineering student because i don't know how to edit picture. and I did this. teehee. monkeyyyy. :P well, i know it's not something to shout about because my editing skill not very good. but I still love the product. :)
Happy 21st Birthday, monkey! :) we
♥
you :)))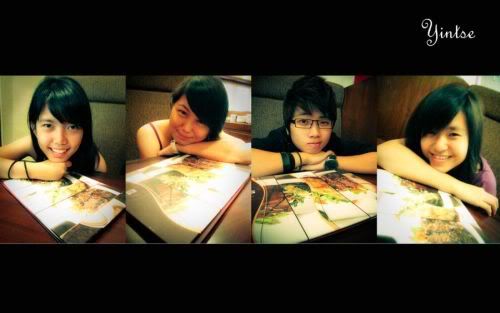 picture taken @San Francisco Steakhouse, Midvalley.
nee and sam going to sit Solid State paper later. wish them luck! :D next tuesday is my turn :(